Credits recognition - Cycle XXXV to XXXVII

This system is valid for PhD students between XXXV and XXXVII cycle.
From XXXVIII cycle there is a new system linked to the release of the Diploma supplement.
Students attending courses or seminars abroad and asking for credit recognition of this training period should present the certification to the Secretariat, and need approval by his/her supervisor besides the Education Committee.
Please check the scheme for detailed information: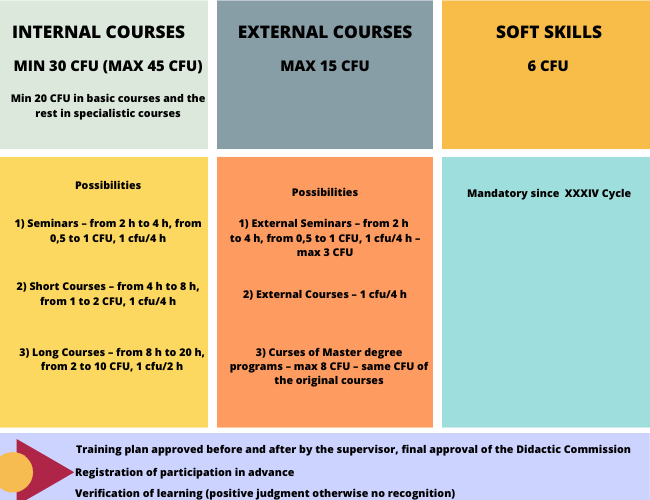 Please note that the Board of Teachers has established that the students should collect at the end of the period of 3 years at least 45 credits in training courses and, since the XXXIV cycle, 6 credits (36 h) in soft and complementary skills with the courses offered by the University of Florence.
If your study plan follows the previous table, you can ask for the credits recognition at the end of all courses.
If your study plan needs to be different for research motivations, write an email with your tutor to the President of the Education Committee, prof. Riccardo Barsotti (riccardo.barsotti(at)unipi.it) to get the approval.